Alia Bhatt is one of the fittest stars in Bollywood and these foods are the reason why.
On a day off in 2019, Alia Bhatt decided to learn cooking and talked about some of her favorite dishes in her Vlog. She said, "I understand the work behind making the foods I love to eat."
In the same clip, she revealed some of her favorite dishes, including beetroot salad and chia pudding, the recipe for which she also shared. Here's how you can make tasty and delicious recipes that are also super healthy the Alia Bhatt way.
How to make a beet salad?
"Beets are really good for the skin, I feel like a real chef cooking right now!" Bhatt revealed during the cooking session.
Ingredients Needs:
For the salad-
1 boiled and grated beetroot.
1 cup of yogurt
Pinch of black pepper
Sprinkle of chaat masala
Pinch of coriander leaves
For Tadka-
1/4 tablespoon of oil
Black mustard seeds
cumin seeds
asafoetida powder
curry leaves
Preparation method:
Step 1: Take a bowl of boiled and grated beetroot. Add some yogurt and mix well.
2nd step: Then sprinkle with a pinch of black pepper. Then add some chaat masala. Mix some coriander leaves in the mix.
Step 3: In a tadka bowl, heat a little oil.
Step 4: Then add mustard seeds (rai) and cumin seeds (jeera) to the tadka.
Step 5: To finish the tadka, add curry leaves and a bit of hing.
Step 6: After that, remove the bowl of tadka from the heat. Add the tadka to the beet yogurt mixture. Mix well. Your delicious and healthy beet salad will be ready.
Talking about the goodness of beets for the skin, Alia said, "I used to eat beet salad all the time because I was shooting in Goa and it was very hot." She added that she never eats yogurt without adding a tadka to it.
Don't miss: Try This Healthy and Delicious Lentil Beet Salad Recipe
How to make chia pudding?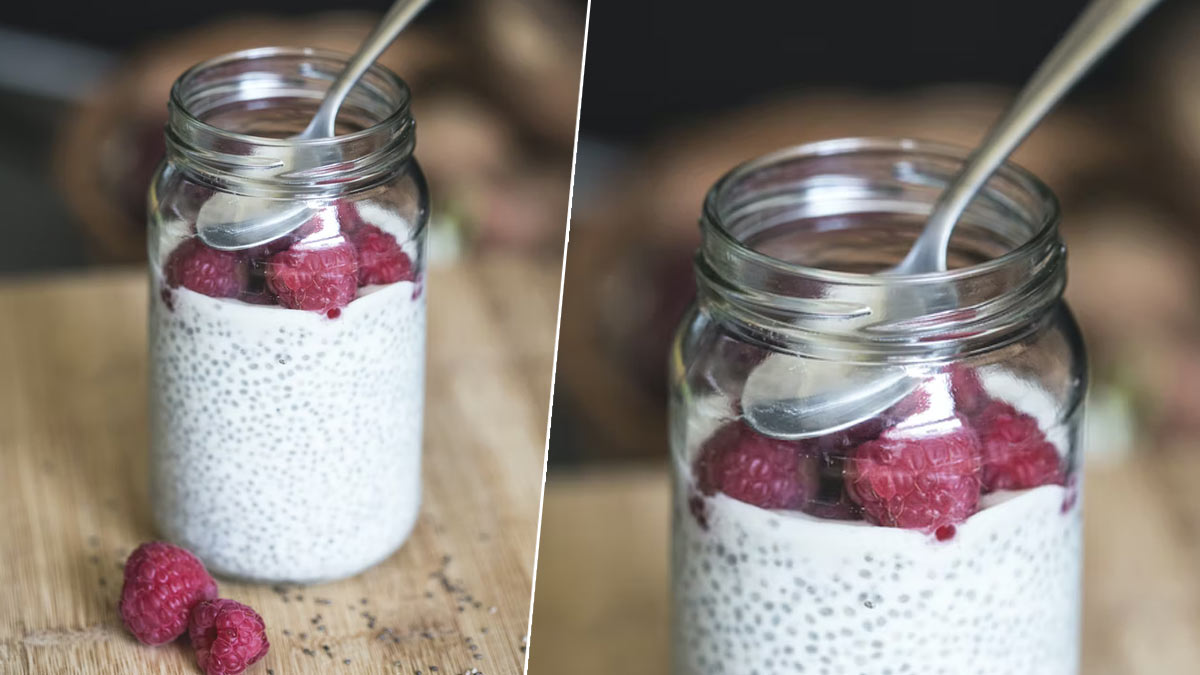 In the video, Alia Bhatt revealed that she often eats chia seed pudding for breakfast and sometimes as a snack.
Ingredients Needs:
1 scoop of toasted chia seeds
1 cup coconut milk
1 tablespoon of protein powder
drops of stevia (to taste)
Preparation method:
Step 1: First, put some chia seeds in a skillet over medium heat and roast them. Roast them dry for a few minutes and take them out of the bowl. Let them cool for a while.
2nd step: Now add the protein powder and coconut milk in a separate bowl. You can use a spoon or a fork to mix them well. Make sure the mixture is free of lumps.
Step 3: Then add as much stevia as you want and mix a little. You can add any other sweetener of your choice like jaggery, honey, sugar free, etc. It will add sweetness to your dish in a healthy way.
Step 4: Finally, add the toasted chia seeds and mix well. Place the bowl in the fridge for 30-40 minutes.
Step 5: Finally, you can have your chia seeds. You can top the pudding with chopped fresh fruit or nuts for an enhanced taste. Enjoy the fun!
You can see the video of Alia Bhatt's cooking session here:
Don't miss: Guess the most loved food of your favorite Bollywood actresses
I hope you found this story interesting. Share your impressions with us by commenting on our Facebook or Instagram pages.
For more stories like this, stay tuned to HerZindagi!
Did you like this article?